DOKU.ARTS
Zeughauskino Berlin
19.09.–14.10.2012
We hope to be back in 2022!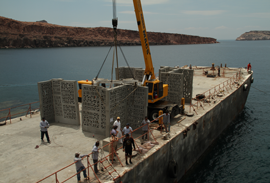 Jardín en el Mar
Well known for his internationally celebrated film about the land art of Andy Goldsworthy, documentary director Thomas Riedelsheimer began his new film by focussing on the artist Christina Iglesias during the preparations, process and maritime vernissage of an underwater sculpture on the Mexican peninsula Espiritu Santo, a UNESCO site of World Natural Heritage since 2005. But in the process of filming it soon becomes obvious to the team that a meditation on sublime beauty, nature, mankind and our common future need to play a major role in order to do justice to the place and project. The relation of humankind towards their surrounding landscape becomes the leading motive of the film. "I can't help it but I truly fell in love with this place: a little island in the Gulf of California in Mexico. To me it is dry, mysterious, ancient and pure. The landscape of a soul. I enjoyed returning to this place for the four years that the making of this film took. I learned a lot about the land, art and about the people who care so much for this place. Fantastic people with a big heart and an open soul. I hope this film can convey a little bit of my fascination. I am grateful to have been part of this project." (Thomas Riedelsheimer)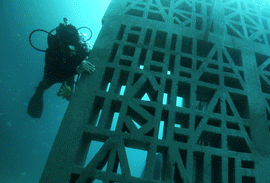 Thomas Riedelsheimer
Thomas Riedelsheimer (*1963) studied at the Academy for Film and Television in Munich and has since been working as freelance author, director, cinematographer and editor. He has won several national and international awards for his directing and cinematography, and is a three-time winner of the German film prize Lola. His most celebrated film Rivers and Tides (2000) about the artist Andy Goldsworthy brought in $2.5M in USA, was shown worldwide and is a DVD top seller. Further portraits of artists include Touch the Sound (2004). A member of the Deutsche and the Europäische Filmakademie, he has lectured at the Filmakademie Ludwigsburg since October 2007.