DOKU.ARTS
Zeughauskino Berlin
19.09.–14.10.2012
We hope to be back in 2022!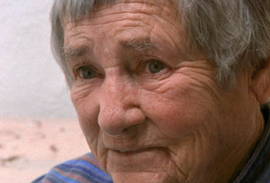 Agnes Martin: With My Back to the World
A portrait of painter Agnes Martin, who would have turned 100 years old in 2012.
Born in Canada and a member of the Abstract Expressionist community in New York in the 1950s and '60s, she subsequently lived for 45 years relatively reclusively in rural New Mexico, where she worked within a carefully defined formal vocabulary of grids and horizontal lines. Mary Lance's documentary visits the artist working in her studio. Martin has written extensively about her theories about art, though much of this writing is mysterious or cryptic, thus providing a counterpoint to the apparent simplicity of the paintings. The writings are included in voice-over, read by Martin.
Images of Martin's work, photographs, archival footage, and an excerpt from Martin's film, Gabriel are edited into the videotaped interviews. In keeping with Martin's chosen life of solitude, there is no narration and there are no interviews with anyone else. "You see, I say I paint with my back to the world. Because if you wake up in the morning and you feel very happy, about nothing, no cause, that's what I paint about, the subtle emotions that we feel without cause in this world. And I'm hoping that people, when they respond to them, will realize that they make responses that are completely abstract, you know, and that their lives are broader than they think." (Agnes Martin)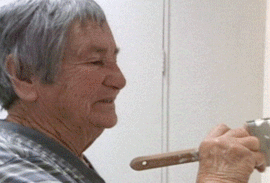 Mary Lance
Mary Lance is an award-winning, independent filmmaker with over thirty years' experience in documentary production, and whose work is supported by institutions such as the National Endowment for the Arts. Her biographical film, Diego Rivera: I paint what I see was awarded with A Gold Plaque at the Chicago International Film Festival and earned numerous other awards. Her current project is Blue Alchemy: Stories of Indigo, a documentary on the history, culture, and present uses of the blue dye.