DOKU.ARTS
Zeughauskino Berlin
19.09.–14.10.2012
We hope to be back in 2022!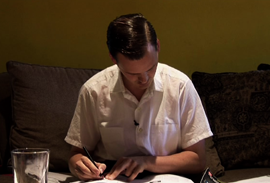 The Escape to Hollywood
In Denmark, the young storyboard artist Lars Munck is highly respected, but he longs for Hollywood, a world he really only knows from television. His goal is to produce the storyboards for an American blockbuster. His dream of Hollywood as a creative paradise ends on the ultra-hard pavement of Tinseltown, which treats dreamers extremely unromantically, cynically, ambitiously, and ruthlessly. Lars is left to his own devices and confronted with self-doubt. His journey in search of great success becomes a surprisingly introspective experience that forces him to question why he cannot seem to find a place in this world. Lars Munck's drawings and animations are an important component of this documentary film. The filmmaker Trine Dam Ottosen follows her friend Lars Munck on his existential journey. She sketches a gripping personal portrait that tells a story of dreams and desires, of a search for identity, of a yearning for a simpler life, and last but not least of love. Trine Dam Ottosen studied directing and camera at the Edinburgh College of Art. The Escape to Hollywood is her first full-length film.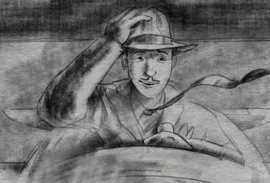 Trine Dam Ottosen
Trine Dam Ottosen graduated in 2009 in Film and Cinematography from Edinburgh College of Art. Writing plays a main role in her work: she composes poetry, essays and her own screenplays. At the moment she is working on visualising her poetry. Escape to Hollywood is her first long documentary.