DOKU.ARTS
Zeughauskino Berlin
19.09.–14.10.2012
We hope to be back in 2022!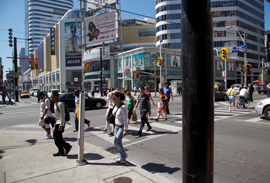 Mark Lewis – Nowhere Land
Mark Lewis is a visual artist whose short films interrogate the contemporary landscape while exploring the basic language of film, often examining easily overlooked sites or 'non-places' by connecting classic pictorial modes with a cinematic vision. Reinhard Wulf follows Lewis through diverse locations that the artist has filmed and that continue to fascinate him. We see Lewis at odd places that he has discovered on his bicycle and watch him at work as he films a chaotic intersection in downtown Toronto. Reacting to these 'nowhere lands', Lewis maintains a constant dialogue, revealing his convictions as an artist while providing unique insights into everyday places. Lewis is both eloquent and informal in describing his motivations and discoveries at these locations, from the vast parking lot of a suburban strip mall, to a majestic lake at Algonquin Park, and other urban settings—including those from films in Lewis' 2009 Venice Biennale exhibition. Wulf allows Lewis the time to develop his thoughts in situ, making this film a captivating portrait of the artist and his sometimes-surprising methods. A visually eloquent film made with a respect and confidence towards images that is consistent with the sophisticated language of Lewis himself.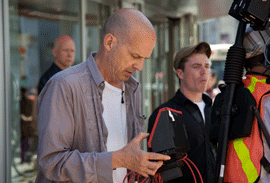 Reinhard Wulf
Reinhard Wulf (*1947) has worked as a film journalist, publishing book and magazine articles on Douglas Sirk, Billy Wilder and Curtis Bernhardt. Since 1984, he is the commissioning TV editor at Westdeutschen Rundfunk and is mainly responsible for documentaries on the arts and on film, presented in series such as Kinomagazin and Dokumentarisch arbeiten. As author and director he has realized numerous documentaries on artists and filmmakers, among them Claude Sautet, Carl Theodor Dreyer, William Kentridge and Gary Hill. His first feature-length documentary James Benning – Circling the Image (2003) was screened at film festivals such as the Viennale, Rotterdam, and Berlin (DOKU.ARTS 2006). Before Reinhard Wulf ends his work at the WDR in 2012, he will present his new film at DOKU.ARTS.