DOKU.ARTS
Zeughauskino Berlin
10.09.–12.10.2014
We hope to be back in 2022!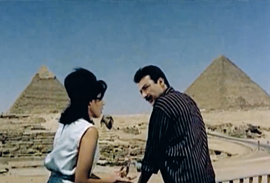 Domestic Tourism II
Taking as a starting point a tourist's way of looking at the pyramids, the Egyptian artist Maha Maamoun in her melodramatic and sometimes absurd compilation film goes in search of new iconographic interpretations of her country's emblematic landmarks. This film, compiled purely out of scenes from the history of Egyptian cinema – from the present day going back to the 1950s and then coming back up to the present day – becomes a detective-like search for subtle messages. Maamoun explains, "I am interested in how and when this symbol of Egypt appears as a backdrop and to what extent its exploitation and politicisation by the various regimes comes into the frame. And how these minimalistic structures towering over the nearby labyrinthine Cairo, […] are implicated in the city's on-going struggle with its own past and present."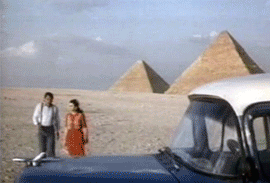 Maha Maamoun
Maha Maamoun lives and works in Cairo, Egypt. As an artist she primarily works with photography and video. Most recently she co-edited, with Haytham el-Wardany, a book titled The Middle Ear for Sharjah Biennial 10. Her recent exhibitions include: Second World, Steirischer Herbst (2011), The End of Money, Witte de With - Centre for Contemporary Art, Rotterdam (2011), Mapping Subjectivity, MoMA, New York (2010), and Live Cinema, Philadelphia Museum of Art (2010). She was co-curator of PhotoCairo3 (2005) and assistant curator for Meeting Points 5 (2007). Maamoun is a founding board member of the Contemporary Image Collective (CiC).